BUNKER Pro is a high-precision drive-by-wire mobile robot chassis development platform, which boasts superb off-road performance and high-level IP67. The multi-advanced suspension systems and reinforced shock absorbers bring it a unique anti-collision design to tackle challenging real-world terrains. With accessible hardware interfaces and the strong load capacity of BUNKER Pro, enterprises, academia, and research developers can easily develop autonomous robot applications in complex environments, such as inspections, explorations, EOD, video shooting, and unmanned transportation, and more.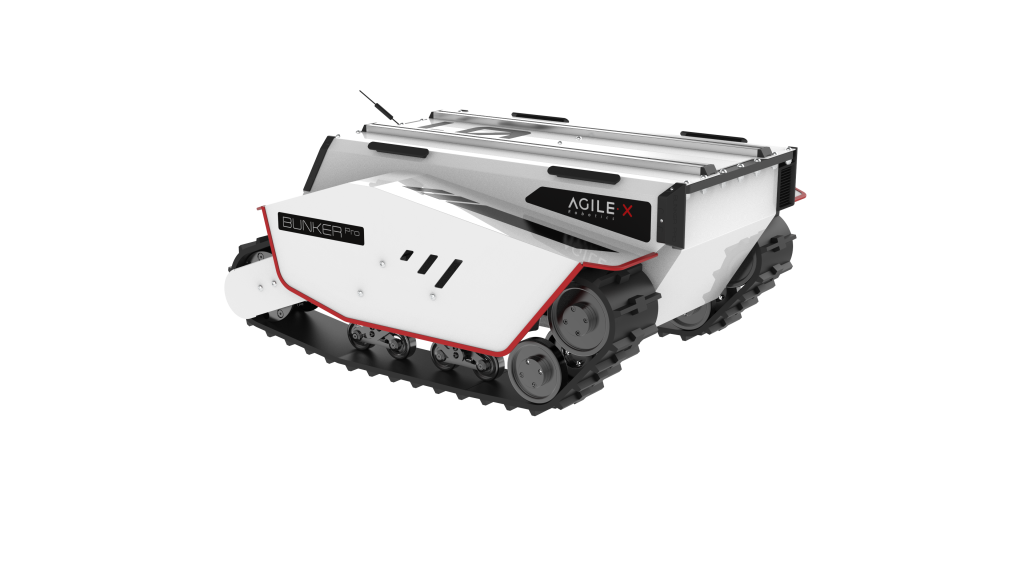 Fully Upgraded System for Challenging Application Scenarios
BUNKER Pro has a high-level ingress protection design for its overall structure, materials, and external electrical components, together with an anti-collision steel exterior and a load capacity of up to 120kg, it can be fitted with various inspections and mapping equipment. The powerful onboard battery supports up to 3 hours of continuous operation and can supply power to external devices to provide extra insurance for the robot to carry out different tasks.
Advanced Suspension System Assures Steady Driving on Tough Terrains
The highly flexible BUNKER Pro has a very low center of gravity, where equipped with the 1500W dual-motor drive, demonstrates super-strong performance in obstacle crossing and climbing. Its highly reliable independent suspension system and the capability of heavy duty and shock absorption, assure smooth drive on tough terrains.
Expandable Load to Support Rapid Secondary Development
BUNKER Pro can easily integrate third-party sensors, IMU, and more in need to quickly build the robotic applications through the CAN protocol, as well as easy to access power from BUNKER Pro. Also, we provide rich open-source SDK and ROS_PACKAGE.
Dimensions (L x Wx H)

1064 x 845 x 473mm

(excluding antenna)

Operating Temperature

-20°C~60°C

Interior Dimension

800 x 370 x 300mm

Wheel Encoder

2500ppr Photoelectric incremental encoder

Minimum Ground Clearance

120mm

Communication Interface

CAN / RS233

Track

150mm

Suspension

Christie suspension + Matilda four-wheel balance suspension

Grounding Rod Length

740mm

Rated Power

1500W*2

Weight

180kg

Rated Torque

144NM

Payload during driving

120kg

Speed

0~1.5m/s

Battery Type

48V/60A Lithium Battery

Maximum Barrier Height

180mm

Charging Time

4.5h

Battery Duration

3h

Motor

48V DC Servo Motor

IP Rating

IP67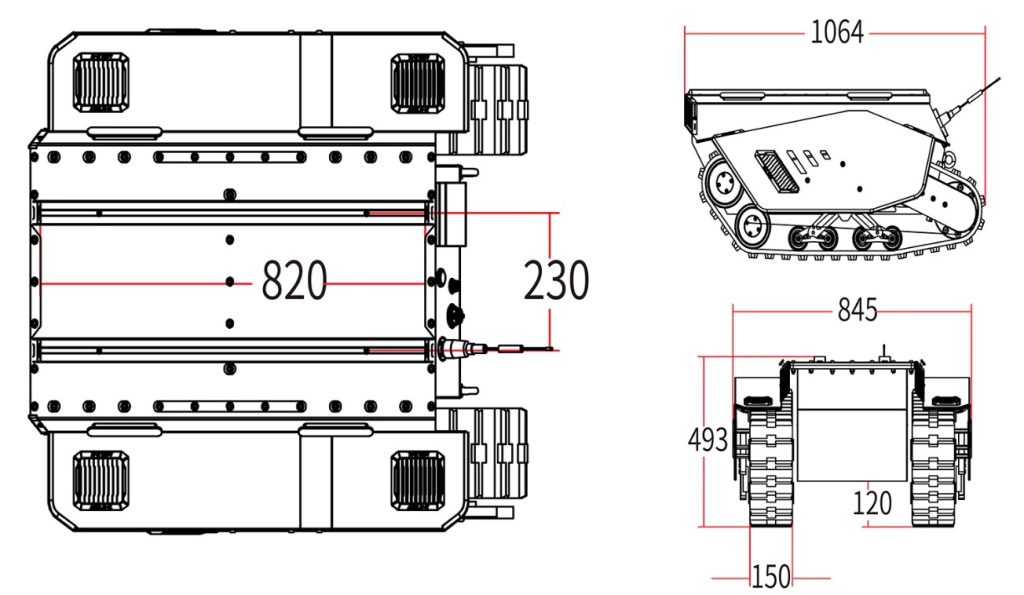 AgileX 他製品
AgileX ソリューション製品ラインナップ
AgileX社 公式サイト
https://www.agilex.ai/?lang=en-us
お問い合わせ先
TechShare株式会社 営業部
AgileX UGV/AGV担当チーム
〒135-0016 東京都江東区東陽5-28-6 TSビル
TEL 03-5683-7293
Email:agilex@techshare.co.jp